Iconic British performer and glam rock star David Bowie died in early January 2016 after battling cancer for 18 years. The legendary rocker, who was 69 years old at the time of his passing, was known for having enormous creative influence on popular culture and for pushing boundaries through music, sexual expression and style to help mold today's exciting and colorful global entertainment industry including artist Madonna, Lady Gaga and fashion designer Alexander McQueen among scores of others.
Bowie died just days after releasing his final album, Blackstar, which was described as a "parting gift" for fans as his health deteriorated. The singer, who launched his musical career about six decades ago in 1966, worked on hundreds of musical projects throughout his life, including being part of 10 different bands that expanded his mammoth musical influence.
Our list of Bowie's top 20 hits is a non-exhaustive curation of some of the late artist's most memorable music including the 1969 viral hit, "Space Oddity," his duet with Rolling Stones frontrunner Mick Jagger and other electrifying songs.
20. "China Girl" — 1983
Bowie's hit, "China Girl" was co-written alongside Iggy Pop — who first recorded the track — and is reportedly about the latter singer's infatuation with a beautiful Vietnamese woman. The song's lyrics warn the woman his Western values will destroy everything she stands for. The video for the song, featuring television personality Geeling Ng, was banned in several countries although it ultimately won the Video Music award for Best Male Video in 1984.
19. "I'm Afraid of Americans" — 1997
This track is from Bowie's 20th studio album, 1997's Earthling, and was written by both Bowie and Brian Eno. A sardonic tune about the invasion of one culture over another, less dominant one, Bowie described the feel behind the song as one stemming from the way an indigenous culture is "strangled" by a homogenized one, like Western or American culture. It "narrows the expression of life," Bowie said.
18. "Fashion" — 1980
This song, from Bowie's album Scary Monsters (And Super Creeps), combines reggae-styled funk and metal with the accompanied guitar work from King Crimson's Robert Fripp. With snappy, witty lyrics like the phrase first coined by Bowie in 1970 — "beep beep," — "Fashion" was the final song completed for the record released in 1980. Its music video was reportedly recorded in the famous New York club, Hurrah, and featured Carlos Alomar, G.E. Smith, Khandi Alexander, Steve Love, John Kay, May Pang and Alan Hunter.
17. "Suffragette City" — 1972
This track from The Rise and Fall of Ziggy Stardust and the Spiders from Mars references the literary work "A Clockwork Orange" by Anthony Burgess. With lines like "Hey man, droogie don't crash here," and "Hey man, well she's a total blam-blam," this track samples some of Bowie's unique lyricism that made him unrelenting force in pop culture.
16. "Changes" — 1971
"Changes" is a tune Bowie released with his album Hunky Dory in 1971 that didn't make the Top 40 but eventually became one of Bowie's most famous projects. With lyrics like "Just gonna have to be a different man/Time may change me/But I can't trace time," some say this song is an accurate explanation for Bowie's ever-changing persona which made him somewhat of a cultural chameleon capable of innovating the most outlandish styles and alter-egos.
15. "Scary Monsters (And Super Creeps)" — 1980
The title track from Bowie's 1980 album, "Scary Monsters (And Super Creeps)" was created with the help of guitarist Robert Fripp and producer Tony Visconti. Its highest point on the U.K. Singles Chart at the time of its release was No. 20. A sample of lyrics from this catchy tune include, "She asked for my love and I gave her a dangerous mind" and "Scary monsters, super creeps/Keep me running, running scared."
14. "Rock and Roll Suicide" — 1972
This ballad-style tune tells the story of persona Ziggy Stardust's fall as a successful rock star. Usually being performed at the close of David Bowie's shows during his tour promoting his album The Rise and Fall of Ziggy Pop, the song's lyrics are reminiscent of poet Manuel Machado's poem "Chants Andalous" which compares life to a cigarette.
13. "Sound and Vision" — 1977
"Sound and Vision" was released with the album titled Low in 1977 and became the project's first catchy single hitting No. 3 on the U.K. charts. In the song, Bowie lightens the power of his voice to juxtapose its strong pop-rock instrumentals, resulting in a magnetic, ear-catching creation. The three-minute tune touches on the creative process and, being written by the artist himself, possibly gives fans an exclusive glimpse into his own creative mind.
12. "Queen Bitch" — 1971
With lyrics like "she's an old-time ambassador/of sweet talking, night walking games," this narrative song describes the singer's perception of a woman who is in the business of manipulating men although "I could do better than that." The song was featured on Bowie's 1971 album Hunky Dory, which also included "Changes" and "Life On Mars?"
11. "The Jean Genie" — 1973
David Bowie described this classic rock tune as "a smorgasbord of imagined Americana" and was inspired by fellow performer Iggy Pop. Part of the 1973 collection Alladin Sane, "The Jean Genie" faced controversy after its release for being similar to contemporary band The Sweet's "Block Buster!" However, the song remained popular, staying on the U.K. charts for 13 weeks, peaking at No. 2.
10. "The Man Who Sold The World" — 1970
Number 10 on our list is Bowie's "The Man Who Sold The World," which came from the singer's third album of the same name. Famously covered by band Nirvana in 1993, "The Man Who Sold The World" helped solidify Bowie's standing as an international superstar. It was reportedly inspired by author Robert Heinlein's sci-fi novella "The Man Who Sold The Moon," published in 1949. "I guess I wrote it because there was a part of myself that I was looking for," Bowie told BBC Radio 1 in 1997. "Maybe now that I feel more comfortable with the way that I live my life and my mental sate and my spiritual state, whatever, maybe I feel there's some kind of unity now."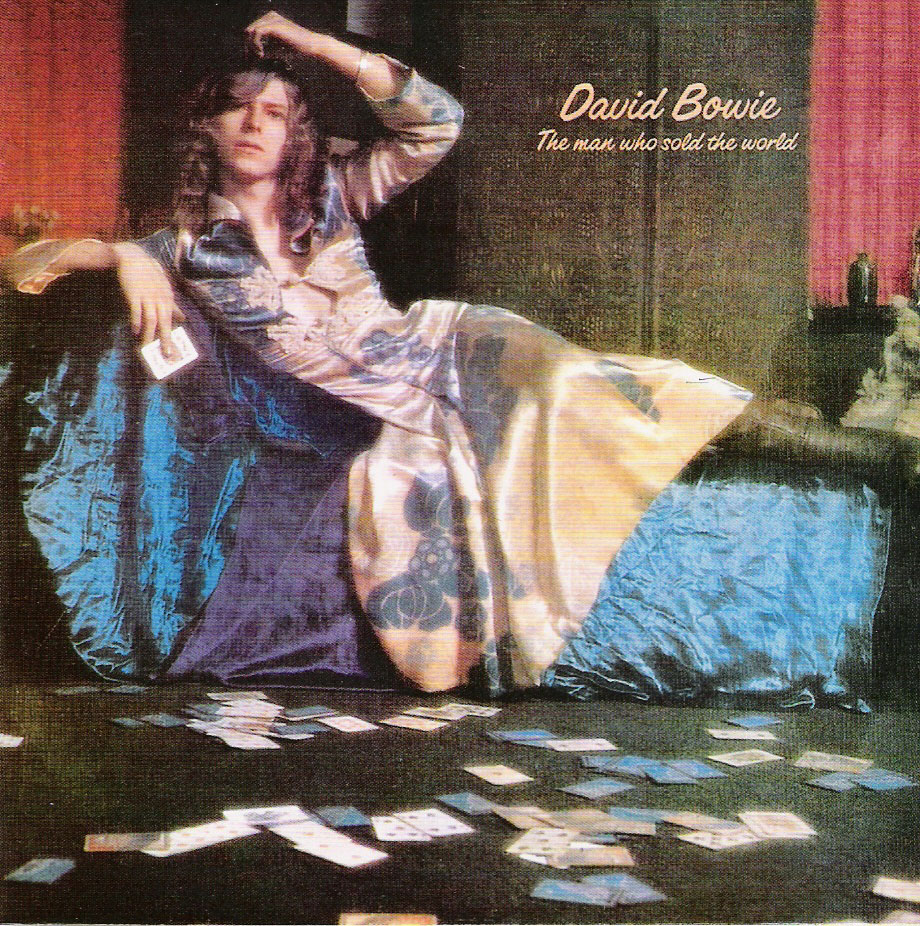 9. "Under Pressure" — 1982
This well-known collaborative track is one of David Bowie and Queen's iconic career moments. Featured on Queen's 1982 album Hot Space, the song's working title was "Feel Like," and eventually evolved from a jam session in Switzerland. "Under Pressure" includes influential scat-inspired bits and a memorable rock bassline, eventually hitting No. 1 on the charts at the time of its release. Queen band member and fellow songwriter Brian May described to Mojo magazine the song's creation was "hard" due to the "precociousness" of all involved. "It's a significant song because of David and its lyrical content," he said.
8. "Dancin' In The Street" — 1985
"Dancin' In The Street" was a hugely popular collaborative release by David Bowie and Rolling Stones frontman Mick Jagger. The high-energy single was nominated for the Brit Award for British Single and the Brit Award for British Video during the year of its release. First recorded in 1964 by Motown group Martha and the Vandellas, Bowie and Jagger's version of "Dancin' In The Street" was recorded to raise funds for Live Aid famine relief.
7. "Starman" — 1972
David Bowie's iconic tune "Starman" was first released in 1972 in the collection The Rise and Fall of Ziggy Stardust and The Spiders from Mars. Produced by the singer and Ken Scott, the futuristically themed, pop-rock piece describes alter ego Ziggy Stardust as a messenger coming ahead of a hero-like extraterrestrial. In the late 1990s, the tune was voted by Q Magazine readers as one of the greatest singles of all time as it became an incredibly influential piece of music in the sphere of pop-culture.
6. "Space Oddity" — 1969
Sixth on our list is David Bowie's "Space Oddity," the mystic narrative describing the launch of fictional astronaut Major Tom. With lyrics like "This is Ground Control to Major Tom/I'm stepping through the door/and I'm floating in the most peculiar way," the iconic song inspired other pieces including the famous retelling "Major Tom (Coming Home)" by singer Peter Schilling in 1983. "Space Oddity" helped build David Bowie's futuristic persona, which likened his art to the ongoing science fiction themes popular at the time.
5. "Life On Mars?" — 1971
With the help of pianist Rick Wakerman and longtime collaborator, guitarist Mike Ronson, "(Is There) Life on Mars?" was released in 1971 on the album Hunky Dory. Described by BBC Radio 2 as a "cross between a Broadway musical and Salvador Dali painting," the eclectic tune reached No. 3 on the U.K. charts in 1973 and remained on the charts for 13 weeks; 30 years later, it reentered the public mind after the popularization of the television series "Life On Mars."
4. "Heroes" — 1977
Co-written by David Bowie and Brian Eno, "Heroes" is essentially a product of the singer's "Berlin period," and ultimately became a crowd favorite after its initial lack of popularity. The song is said to reference German band Neu!'s "Hero," recorded in 1975, and is rumored to have inspired the eventual destruction of the Berlin Wall. Lyrics of the irony-fueled song include the catchy "We can beat them, forever and ever/Oh we can be heroes, just for one day."
3. "Diamond Dogs" — 1974
This glam-rock single introducing one of Bowie's many personas was first released in 1974 and comes from his album of the same name. Described at the time as "unconventional," "Diamond Dogs" did not initially make it high on the charts — and didn't even make them in the United States — but was remade several times by the likes of Beck in 2001 and Duran Duran in 1995. Lyrics to "Diamond Dogs" include, "This ain't rock'n'roll, this is genocide!" and "You'll catch your death in the fog/Young girl, they call them the Diamond Dogs."
2. "Ziggy Stardust" — 1972
The title track of Bowie's famous, big-haired persona Ziggy Stardust, this 1972 song was made famous with the help of mesmerizing lyrics and Mick Ronson's guitar playing. The song is said to summarize the entirety of the album on which it's featured, The Rise and Fall of Ziggy Stardust and the Spiders from Mars, and is an iconic representation of the glam-rock scene. The end of Bowie's outlandish persona came a year after its debut, as Ziggy reportedly threatened the singer's sanity.
1. "Lazarus" — 2016
The final single on our list of the late David Bowie's top 20 hits is his most recent, released not long before he took his final breath. "Lazarus" is featured on Bowie's final album, Blackstar, as well as his stage show also named "Lazarus," which recently opened in the off-Broadway venue called the New York Theater Workshop. The song was released on his 69th birthday on Jan. 8, 2016 and is said to be a final goodbye to his fans.